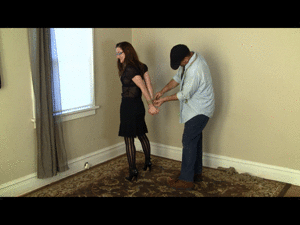 17:22 video
Ogre's World gets in a new shipment of rope from their friends over at ajarope.com and need to test it out. So AJ is called up for us to work the rope up a little bit and run it through its paces. She Is wearing black today and lots of it sheet. High heels and glasses finish out her outfit as she models the rope, holding it up this way and that.
AJ's elbows are locked together with three different wraps of rope. Her arm ropes are secured to her trunk with more wraps. Ogre asks her politely to kneel and then binds her ankles together. "Where do girls go after they've been on their knees?" he asks. She grins and says "On their backs? Riiight?" and lays down for him to bind her thighs together. Her knees are also bound.
This of course is turned into a hogtie and a large amount of somewhat larger rope is covering her whole body. She looks great and this video was a lot of fun to make. Plenty of banter.