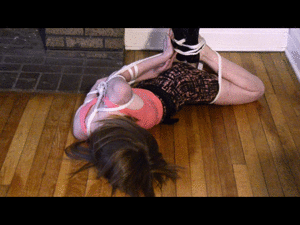 9:29 video
Jasmine Valley in the 8 minute escape!
Jasmine comes by for a little rope bondage because, really, who can resist being tied up and wiggling on a hard wood floor? She comes dressed in a peach colored top and an awesome pink and black print pencil skirt. Toss on a pair of black pumps and she looks hot and ready for some tough bondage.
I tie her elbows behind her back and then turn it into a hogtie by folding her legs back and wrapping some rope around her shoes and tying it off between her shoulders. She's grinning at the start and has already tried to get out of the rope before we even tell her the rules!
A good long bit of wiggling and trying desperately to get free and Jasmine looks like she is stuck and pretty well at that. But the question is, does she get free? Well, watch the clip and find out!