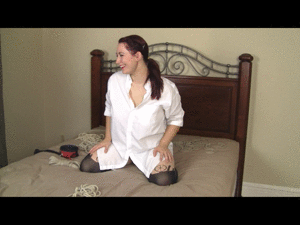 19:00 video
Ruth tells Mr. Ogre that she is willing to try a position that he's had in mind for a few weeks. They set up and get started and the first few moments of the video are of them talking and just having an all around good time, as he begins binding her right wrist. Because the tie took so long to set up, the camera fades out and then back into the scene. Ruth is already tied to the bed, a wrist to each side of the footboard on the bed. Her knees are spread by ropes that go underneath the bed and her ankles are tied to each side of the headboard behind her.
Ogre goes on adding rope. He puts a red leather collar on the girl and then ties off the collar to each of the two headboard ends and then one rope goes in front to the middle of the footboard. A super tight crotchrope is added, and tied off to the headboard. Now if she pulls forward at all, her poor clitoris will be crushed by the rope even more than it already is. He silences her (yeah, right) with a red ballgag. Ogre ties a rope around her eyes and also back behind her, so her head is pulled up.
She wriggles and squirms ever so slightly like this until Ogre pulls out her beautiful breasts and lets them dangle and sway over the bed. After a short while, he puts clover clamps on her nipples and let's her suffer like that for a bit. And finally, he attaches the chain of the clamps also to the footboard. Now she can't move forward, or back, or up, and especially not down onto the clamps. she languishes like this for a few more minutes but in the end, this was a super tough tie and I'm surprised she lasted as long as she did.