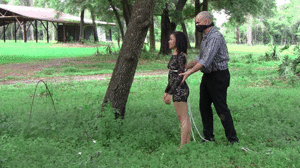 10:38 video
Monica Jade is one of the tougher bondage models I have had the pleasure of working with. She is super flexible, up for just about anything and can handle even the toughest ties. So when I was thinking up positions that I could test her in, I decided I wanted to test her endurance in a back bend position. Not being content with the simple hogtie, I felt the need to let gravity do most of the work.
Monica is wearing a lacy black, backless dress. Her legs and feet are bare, since we are outside on bare ground. I start by tying a chest harness on her, pulling her breasts up and out. She even comments on how good they look. A rope goes around her waist as well wrapped several times. I tie her chest harness up to a tree, keeping her so she is standing and won't fall down completely. I go ahead and just to be nice attach a rope to her waist as well. And that's when the bondage really gets going.
Her wrists are tied behind her and then tied off to her ankles, pulling her backwards and towards the ground. More rope is pulled up between her teeth, keeping her head pulled backwards and staring at the sky. She struggles to maintain this position, squatting down and standing up several times before finally dropping to her knees in this back breaking arch. Monica took this tie like a champ and I know it was super tough on her.