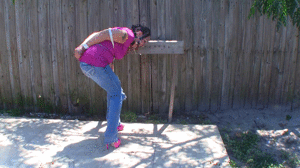 15:04 video
Pink. They love to wear pink. I grabbed this one, wearing a pink top and hot pink heels and dragged her into my backyard. Tied her off to a post and let her show off that amazing ass of hers, while drool seeped out from behind the bit gag I had wedged firmly in her mouth. She wasn't going anywhere, at least not until I let her. And I wasn't inclined to do so anytime soon.
Her wrists were bound tightly behind her and her elbows were anchored to her upper torso by more rope. The rope leash I had on her held her to the framework attached to my fence. I finally grabbed her by the harness and turned her to the cement pad where she had been standing, pushing her to the ground. Once she was seated, I finished up the top half of her rope. Ankles and knees were bound next, so she wasn't getting free. She wasn't going to run. I finally tied her head back and threw some more rope around her neck to let her struggle.
She whined for a long time after that...