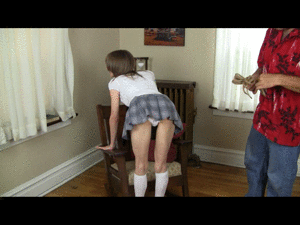 17:30 video
Ogre orders himself a working girl again. This time he makes sure to tell the agency he wants a girl who enjoys being bound and helpless when they get down and dirty. Jasmine is sent over wearing a little plaid skirt, white blouse with a black tie, and knee high sucks with her mary jane pumps. Ogre has her take some rope out of the desk drawer and bring it over to him, showing off her hot body in the process.
Showing off her ass, Ogre has her bend over and put her hands on the arms of the chair. He then binds her ankles together with the jute rope, wrapping and cinching them tight. He lays her over the arms of the chair and then binds her wrists up over her head and underneath the chair arching her back most uncomfortably. Once she is secured, he opens her shirt and lifts her bra to get a closer look at the goods.
Grabbing more rope, he puts a crotch tie on her and pulls it up to the back of the chair, further encouraging her to keep her back arched and in place. At this point, Ogre shows his true intention and tells her he's going to rob her purse and leave her like this. She yells at him as he leaves the room. She struggles and fights and manages to get a tiny bit of rope free but can't escape in time before he comes back to retie her.
He tells her he was just joking to fuck with her and unties her arms just enough to retie them tighter, more inescapable, and he gags her before he says he was lying and in fact, is going to take the thousand dollars he found in her purse and walk. She keeps yelling and moaning at him through the gag.