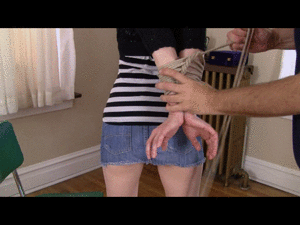 16:10 video
AJ wants some rope and Mr. Ogre is always ready to oblige. Denim skirt, striped top and black sweater complete the top of her outfit. And far down her legs she wears a pair of ankle high black boots with o rings on the side.

Ogre ties her forearms together behind her back and then ladder ties the rope up to her elbows. It slips down a fair but but Mr. O isn't dissuaded and keeps tying her up. He has her sit down in a chair and tie rope around her waist. Then her thighs are tied to the chair as well and as she keeps kicking the floor, Mr. Ogre ties her ankles up to keep her shoes off the wood.

He ballgags her then watches her kick the floor so he comes back and ties her heels up, pulling her toes from the floor. Drool starts to drip down from AJ's chin and she squeals and winces. AJ begins after a long while in the chair to really enjoy the ropes, pulling at them sensuously and moaning in pleasure as she does so.

Her reactions are not faked at all. As we were untying her, she said she started to wonder if she could orgasm just from being tied. We don't know but from the looks of this video, if anyone could, AJ would.