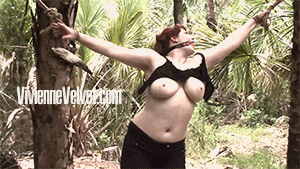 7:53 video
They pay me well for what I do. I don't know what this woman did but I've been hired to make sure she pays. It takes all kinds: some look innocent, some not so much. But in the end, they get what they deserve.
Ruth Cassidy is on a walk, enjoying nature and just generally having a nice day. Her stretch pants and tight top show off her beautiful body fantastically. She looks so good, I almost feel bad for her. But I collected payment and never go back on a job.
She is grabbed while resting on a tree. She had seen me earlier and ran. They all run. I yank her back into the bushes and a few minutes later she is tied spread eagle between two trees. I have some fun with her for a while, pulling her shirt off, exposing her smooth skin. She doesn't seem to like me much but then again, I don't really care. She was on a hike and got what she deserved.