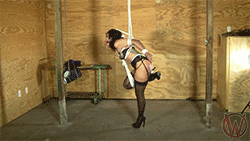 16:05 video
Enchantress Sahrye comes by to work over here in Ogre's World and I decided it was time to get serious about the bondage with her. I break out one of the toughest ties I do regularly over here at the studio: the Serene Tie. Sahrye comes in wearing black lingerie, thigh highs and a thong. The clip opens with her standing around in her very high black shiny pumps. They start chatting about bondage while he gets to work on her with white, nylon rope.

Her elbows are tied first, followed by her wrists. The excess rope wraps around her waist as Sahrye tells a story about a crotchrope gone horribly wrong. More rope is added in the form of a chest harness, under and over her breasts, then cinched upand tied off overhead, holding her upright. Rope is added to her elbows to pull them up a bit, of course. Her right leg is folded up next, bound against her thigh, with the shoe incorporated as well.

Next, a harness ballgag is strapped into her mouth deeply. She wobbles on her left leg, trying hard to stand still so I can apply more rope to her thigh, pulling her chest down. Rope is applied to the top of the harness, pulling her head back uncomfortably. She lingers. There is a lot of drooling.