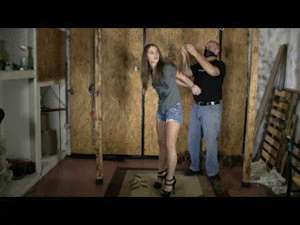 19:16 video
Terra Mizu and Ogre are back at it again. This time Ogre wants to crank down the rope on her legs, showing off those incredible parts of this very tall, very muscular model. She looks fantastic in her cutoff shorts and grey tshirt proclaiming "I don't have anything to wear". Her heels are high and her arms get there too!
The scene is mostly the two of them talking back and forth as he cranks down the ropes. Her wrists are tied, anchored overhead. She leans forward and he begins binding her legs with a ladder tie, going up from her ankles, being cinched all the way up. He adds a simple chest harness and then ties the rope from her legs to her chest, relieving the pressure on her collar bone and bending her forward even further. A hair tie is added to keep her head up.
Then he adds a panel gag and you get a lot of close ups of this gorgeous girl's misery in the ropes. She struggles a fair bit but can't help and giggle at the faces he makes at her from behind the camera.