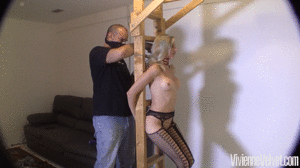 15:22 video
Vivienne is dressed up super sexy in her stockings and high heels. She is wearing a fan purchased red collar and asks me coyly "How will you torment me today, Master?" "However I feel like" is my reply, of course. I have her stand with her back to the suspension rig, arms at it's sides and as I come around behind her I am certain that she is expecting me to bind her arms to the poles. I surprise her with a rope around her neck. She looks startled as if she didn't expect such a blatant show of Dominance. You. Will. Stay. Here. my rope seems to say, hidden beneath the chuckle and pussy slap I give her. She wiggles and reaches up to feel the rope, trying to adjust it for comfort but sadly, I have done far too good a job of binding her in place.
I tie her elbows to the rig next, not showing any care about pinching her underarms against the hard, unforgiving wood. "Oh my god..." she moans, trying not to smile at the same time. I know I'm getting her attention. I'm just busy right now. A few twists of rope and a cinch later and her waist is secured against the frame, along with her wrists. They are trapped behind her ass, pinned in place as well.
I finish up the beginning of this bondage by binding her right ankle and leg to the support, XXXX her to rely on the frame to give her balance which she so desperately needs. While the camera is zoomed in on her face, I ruin her balance further by tying her left ankle up to the top of the suspension rig. She moans and complains while trying not to choke herself with the neck rope. This is not an easy position for her and I feel that it needs to be made worse.
I XXXX her to start thanking fans for the various gifts she received at Christmastime. She struggles to remember everyone, having a hard time concentrating from the difficulty of this position. And since she wasn't prepared to thank everyone she has a very hard time remembering. I don't release any of the tie until she is finished thanking you guys for your wonderful presents.
She points out at this time how hard it is to keep her balance and I decide to go ahead and let her have a reprieve, acting as though I didn't know how stressful this was on her. It couldn't have been easy, that I am sure of, but she gets a little release when I give her the ability to balance on her other leg as well while bound to the poles.
This is where the first part ends and I start getting really mean with her.