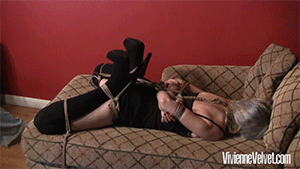 14:39 video
For the month of January, Vivienne was very good and so I decided to reward her with one of my favorites (see what I did there?), the remote control vibrator. She put on a very sexy set of black lingerie and a pair of very high heels, some of my favorites again, and then we got the vibrator part all settled in for a lovely afternoon of play. She starts by lounging on the chaise and I go ahead and turn the toy on as well as the camera at the same time.
Immediately the writhing and twisting begins. She is thoroughly enjoying herself and decides to use her hands as well. I can't have that and after she ignores the visual command, I tell her "hands off!" and she removes them, looking chagrined. I keep letting her pose and twist around looking absolutely edible while she undulates to the buzzing. She ends up in a number of different positions and is ordered to hold those positions while being tormented and teased.
After a while the camera fades out and when it comes back, Vivienne is frogtied on the lounger and her legs are spread, held wide by ropes encircling everything. She squirms, arms trapped in a merciless boxtie, while I let the toy continue it's nefarious stimulation. Vivienne is helpless to either stop or accelerate the process, frustrating her and making her squirm constantly throughout the whole video.