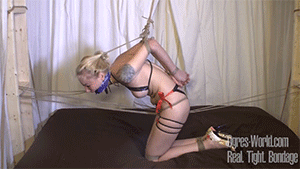 10:12 video
There are days I just feel like being a bastard. Today was definitely one of those days. Vivienne had done nothing wrong, she wasn't being annoying or a pain in the ass. But watching my girl be helpless, miserable and uncomfortable makes me a happy ogre.
Viv was wearing a slutty lingerie outfit, barely covering anything. Crotchless panties, cupless bra and heels, that was pretty much it. Once she was dressed and ready for bondage, I bound her ankles and knees together tightly. Her wrists and elbows were lashed together as well. I hoisted her elbows to the frame over our bed, holding her hostage. I added a crotchrope, which always makes her whine. Pulling the rope between her legs taut brought more desperate noises from my sexy damsel.
All in all this was a very stressful position, especially after I pulled her head back to her elbows with a hairtie. She could kneel straight up and down, but that put tension on her pussy. She could lean forward, release the pressure on her crotch, but that would tighten her elbow ropes and make her moan in discomfort even more. She was in a bad predicament and that could only mean good things for you and I...