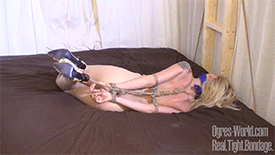 8:21 video
Vivienne today was being a bit of a damsel. Everything was the worst that it could have possibly been. Out of milk this morning for the coffee, forgetting to have lunch ready, running out of mascara, it didn't matter, it was the worst. I knew that she needed a bit of a lesson in perspective to I bound her up this afternoon and let her be unhappy, helpless and a real damsel.
She was wearing pantyhose and I had her take everything else off, except her shoes of course. I bound her wrists and ankles, her knees and her elbows. She was pretty snugly secured and then I added a cleave gag with one of my bandanas. She whined and writhed a bit for a while and then after a bit of time calmed down, settling into her role and relishing it.
After this, the volume on everything else got turned down a bit.